In Dr. EnQi's new documentary American Healer he shares knowledge of his most recent health and wellness discoveries. Carlie Green, a producer of the documentary, talks about her experience working with Dr. EnQi and notes some of his new discoveries below. Read the full article and purchase a copy of American Healer the documentary.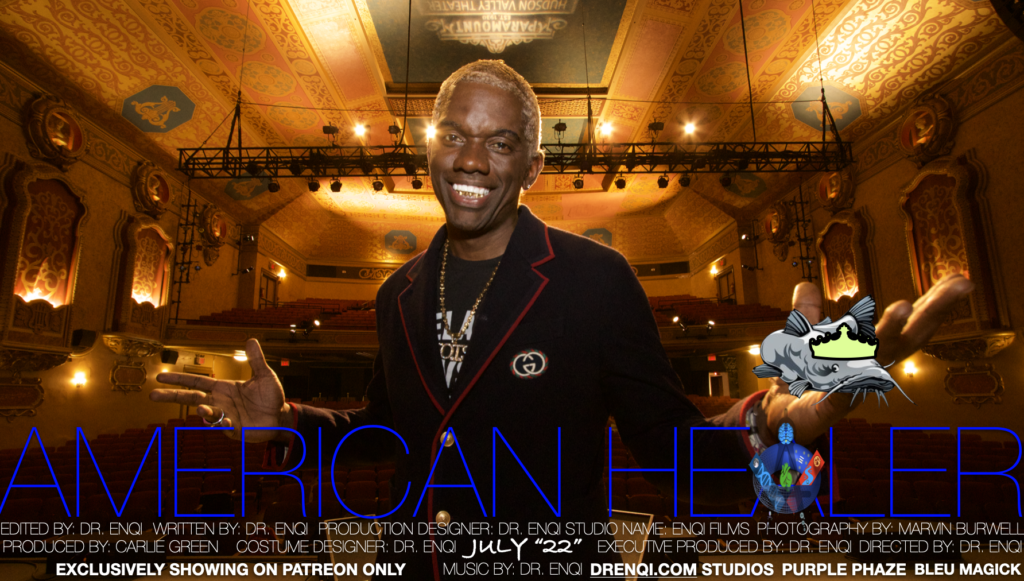 I have witnessed Dr. Enqi personally go from a to z with this documentary process and it has been life-changing. American Healer has literally changed the world.
He is the first to use these herbs that contain #glowing #tryptophan to regrow the Pancreas Beta Cells that produce Insulin. In the American Healer documentary, he details step-by-step testimonials and documentation on how to reverse #Obesity, #Cancer, #Diabetes, Strokes, Tumors, etc.…
You don't have to like him to enjoy the #American #Healer, it's the best #Vegan #Documentary or #Holistic Documentary I have ever been a part of.
Many people are mad because he calls Spelt a Hybrid, #Kombucha Tea a "poison" or says "Dr. Sebi would've been studying Melanin if he was alive". These things are all true, I heard the clips of Dr. Sebi in the American Healer documentary and it's true, Sebi would probably be studying Melanin based on the clips. #Dr. #Sebi did say this, and many people are jealous that someone not related to Dr. Sebi is wearing the Crown as the American Healer.
Many people are mad that Dr. Enqi calls out the rich rappers and entertainers for not contributing money to Melanin Diabetes Research via his Cashapp $ministerenqi (he calls out everyone for not sending enough money) and supporting everything but their own genetic research (maybe Kyrie will be the exception).
Many people are mad because they must wait for his orders, but I Don't Mind because I like getting and using the best. We must wait to order "next year" model cars, new shoes, new phones, dinner reservations, iPhones, Jordans, etc.… When you make the best product there will always be a high demand and a longer wait time. I like having and using the best you guys can have the rest, I also like thinking that my specialist is the most well-paid. I personally don't want a "starving artist" type of person in charge of my health.
American Healer should not be available free on patreon.com/drenqi and it damn sure should NOT be under $30 for the Blue Ray at drenqi.com, this documentary should be a $500 – $5000 course on sale in some futuristic Hip Hop type of University in a perfect world or maybe a #Million #Dollar #NFT as far as the content is concerned, but Dr. Enqi is all about sharing with the People.
The craziest thing is he is constantly under attack by various Black Hate Groups and Black Militants as being pro-white because of his intelligence and use of big words or because he pulled himself up by his bootstraps to get his children out of the ghettos. We have even eye-witnessed the cointelpro-like behavior of his "biggest fan".
This woman went from being his number fan and defender publicly to "exposing him" as a coon and sell-out, but secretly she is a crazed stalker that he never even met in person. It is literally insane to see so many people attack this man's name and character for being a single black father that is really healing people…. full article and movie at https://drenqi.com/product/american-healer-documentary-blue-ray-dvd/
The Black Community, the Holistic Community, the Vegan Community, and any other "community" that counts him as a member should be proud to say they know this man, period. The people who go down in history as going against this movement will have to answer to their ancestors and their children. This is the biggest moment in Naturopathic History if you ask me, A Non-Medical Doctor has proven beyond a shadow of a doubt that incurable illness has Hope. Real Progress, Real Healing from Enqi Real.
Real Progress, Real Healing from Enqi Real. Just like he says all the time Love is Loyalty but before Love is Respect and you can't buy or fake Respect. Well guess what while guys that can barely read attack him the highest level scientific minds Have a Great Deal of Respect for the Article he did on his 9 Year Study, https://drenqi.com/2022/02/dr-enqi-discovers-true-meaning-of-eye-of-heru-or-horus/
He says you must Spend Time, Paying Attention, Balance your Interest, to Earn Respect, Your Spirit/Mind is the only real Currency or Value, and that Respect is Credit. I was hooked after he said the only true Real Estate is your Body or Temple.
This is clearly the reason #Natureboy, #Polight, #Young #Pharoah, #Yahki #Awakened, #Billy #Carson and many others steal his material. He literally is the Ghost Writer of Modern Consciousness.
The funniest thing is he doesn't push P, for money so the people that steal his material get very popular quickly while he stays in the trenches behind the scenes healing people in real-time.
The Herbs in that Purple Phaze compound with that Bleu Magick Gel should earn him a Nobel Prize but I'm sure he would settle for a box of Flowers from #DrinkChamps or a nod from #Ye lol as intelligent as he is, he never forgets where he came from. He stays so Real and so in touch with the people. I think it's from his children, I have never seen a man so in tune with his children before. I would support anything he does just to support his image as a black father and I'm not even Black.
We are lucky to have this man in our lives, in these times, I'm happy to know and support the American Healer, Dr. EnQi and if he hasn't got his millions from moss and healing yet We Owe It To Him!!! Support Him and Don't Forget to Refresh the Payment Screen at the Checkout for Security Purposes. https://drenqi.com/product/american-healer-documentary-blue-ray-dvd/